QUESTION 41
A vSphere administrator assigns VLAN 3389 to the Production port group on the VCP_DCV_Example vSphere Distributed Switch. After the change, users report a loss of connectivity to their applications. Further analysis provides the following data:
– The cluster has not had a ESXi host failure.
– Application functioned normally prior to the change.
– The loss of connectivity occurred immediately following the change.
Which condition would cause this loss of connectivity?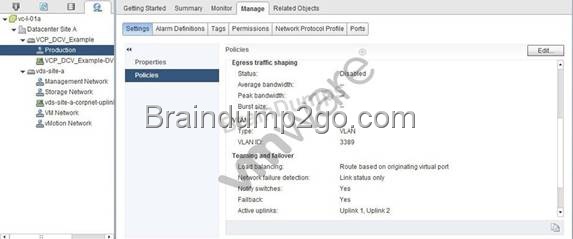 A. The physical switch ports used by the vmnics have not been configured with 802.1Q.
B. Maintenance Mode was initiated on one of the hosts in the cluster. Connectivity will resume after the
virtual machines are migrated.
C. All uplinks were removed from the VCP_DCV_Example switch and added to another virtual switch.
D. A load balancing setting on the port group conflicts with the load balancing setting of the switch.
Answer: A
QUESTION 42
Why would an administrator be unable to locate an IP address for a vSphere vmnic uplink?
A. IP addresses are defined at the virtual nic level, not the vmnic level.
B. ESXi host vmnics communicate with physical switches on layer 3.
C. ESXi hosts use NAT translation to mask the actual vmnic IP address.
D. The IP address of the vmnic is not shown in the vSphere Client.
Answer: A
QUESTION 43
Which database platform is embedded within the vApp architecture of vCenter Operations Manager?
A. MySQL
B. IBM DB2 Express
C. Oracle 11g Express
D. vPostgres
Answer: D
QUESTION 44
An administrator attempts to delete a Storage Policy and receives an error.
Which two object types, if assigned a Storage Policy, would prevent the Storage Policy from being deleted? (Choose two.)
A. A virtual machine.
B. A virtual disk.
C. A datastore.
D. A datastore cluster.
Answer: AB
QUESTION 45
An administrator has configured hardware acceleration for a Fibre Channel storage array. After a recent maintenance event, the administrator finds that cloning and migration operations are taking excessively long to complete.
Which two settings could cause hardware acceleration to become disabled? (Choose two.)
A. VAAI Plugin Name = VMW_VAAIP_SYM
B. VAAI Plugin Name = VMW_VAAIP_NETAPP
C. VMFS3.HardwareAcceleratedLocking = 0
D. Datamover.HardwareAcceleratedInit = 0
Answer: CD
QUESTION 46
A VMFS5 datastore shows several errors, which suggests file system corruption.
Which tool could a vSphere administrator use to check the VMFS file system?
A. vSphere On-disk Metadata Analyzer (VOMA)
B. VMware Infrastructure Management Assistant (VIMA)
C. vSphere Storage APIs for Storage Awareness (VASA)
D. VMware vSphere Health Check Analyzer (VHCA)
Answer: A
QUESTION 47
A Windows Server 2008 virtual machine with the following configuration receives an Out of Space condition indicator:
– The virtual machine uses thin provisioned virtual disks.
– The VMFS5 datastore on which the virtual machine's files reside is on a thin provisioned LUN.
– 30% of the VMFS datastore content is no longer needed.
– The storage array supports VASA and VAAI.
Which action should the vSphere administrator take to resolve the Out of Space problem without requesting additional space on the storage array?
A. Delete unneeded files on the VMFS datastore and then use vmkfstools to reclaim deleted blocks.
B. Delete unneeded files on the VMFS datastore, right-click the datastore in vSphere Web Client, and then
select the Reclaim Deleted Blocks option.
C. Delete some files from the guest OS and defrag its file system.
D. Delete some files from the guest OS and use vmkfstools to reclaim the deleted blocks.
Answer: A
QUESTION 48
An administrator receives the following error message:
Unmanaged I/O workload detected on shared datastore.
Which vSphere feature is the likely source of this error?
A. Network I/O control
B. Storage I/O control
C. Storage DRS
D. HA datastore heartbeats
Answer: B
QUESTION 49
A vSphere administrator is configuring a fully automated DRS cluster and determines that DRS is
not balancing virtual machine workloads.
What condition could cause this behavior?
A. vMotion is not properly configured on the hosts in the cluster.
B. HA is not properly configured on the hosts in the cluster.
C. The DRS threshold is configured on the most aggressive setting.
D. Some of the virtual machines have been disabled from DRS.
Answer: A
QUESTION 50
An organization has a HA/DRS cluster containing a mixture of ESXi 4.1 and 5.5 hosts in the cluster. An ESXi 5.5 host has failed and HA attempted but failed to restart the virtual machines on another host. HA admission control is disabled.
What condition could result in this behavior?
A. A virtual machine has an incompatible hardware version
B. Insufficient resources exist on the remaining ESXi hosts
C. vMotion migration is not supported between ESXi 5.5 and 4.1 hosts
D. HA failover is not supported between ESXi 5.5 and 4.1 hosts
Answer: A
If you want to pass the VMware VCP550 Exam sucessfully, recommend to read latest VMwareVCP550 Dump full version.