QUESTION 241
A vSphere Standard Switch is configured with two uplinks.
When adjusting the failover order of the uplinks, what are two valid states in which an administrator can place the uplinks? (Choose two.)
A. Active
B. Unused
C. Passive
D. Disabled
Answer: AB
QUESTION 242
An administrator determines that a vSphere Standard Switch is dropping all inbound frames to a specific virtual machine. The behavior appeared in the last two days. Which configuration setting, if changed during this timeframe, would result in this behavior?
A. MAC address changes
B. Forged Transmit
C. Traffic Shaping
D. Jumbo Frames
Answer: A
QUESTION 243
Which two network settings are available on a vSphere Standard Switch? (Choose two.)
A. Ingress traffic shaping
B. Egress traffic shaping
C. Private Virtual Local Area Networks (PVLAN)
D. Virtual Local Area Networks (VLAN)
Answer: BD
QUESTION 244
A security team is validating policy settings in a vSphere environment.
By default, which security policy is set to reject on a vSphere Standard Switch?
A. Promiscuous mode
B. MAC address changes
C. Forged transmit
D. Use explicit failover
Answer: A
QUESTION 245
A vSphere administrator upgrades a version 5.1.0 vSphere Distributed Switch to version 5.5.0. Another vSphere administrator, unaware of this change, tries to add an ESXi version 5.1.0 host to the switch and fails.
What is causing this addition of the ESXi host to fail?
A. The upgraded switch supports version 5.5 ESXi hosts only.
B. The upgraded switch must be set up for backwards compatibility.
C. The switch failed to upgrade properly.
D. A version 5.5 ESXi host must be added to the switch before the 5.1 host.
Answer: A
QUESTION 246
A vSphere administrator creates a new vSphere Distributed Switch. The administrator receives notice from the service desk that a cluster of vSphere hosts has disconnected from vCenter Server. This disconnect occurred immediately after the new switch was created.
– This vSphere Distributed Switch is the only distributed switch managed by vCenter.
– The virtual machines are still functional and the applications are still accessible by end users.
On the ESXi hosts, which step must the vSphere administrator take to allow vCenter Server to reconnect?
A. Use the Direct Console User Interface to reattach the management vmnic to the appropriate switch
B. Use the Direct Console User Interface to disable lockdown mode on each affected host
C. Use the ESXi Shell to restart the mgmt-vmware service on each affected host
D. Use the ESXi Shell to restart the vSphere Web Client service on each affected host
Answer: A
QUESTION 247
A vSphere administrator is administering a vSphere Distributed Switch port group using the vSphere Web Client. The port group was configured using Static binding, but the number of ports must increase as virtual machines are added to the port group.
Which port allocation setting should the administrator use to achieve this goal?
A. Elastic
B. Dynamic
C. Fixed
D. Manual
Answer: A
QUESTION 248
Which condition will cause a HA/DRS cluster to display a yellow health indicator?
A. There are insufficient resources to satisfy the cluster's requirements.
B. A virtual machine has failed and cannot be restarted in the cluster.
C. Virtual machine I/O activity in the cluster has reached or exceeded a critical level.
D. One or more hosts in the cluster has entered maintenance mode.
Answer: A
QUESTION 249
A vSphere administrator finds a HA/DRS cluster status has turned RED indicating a degraded state.
What is the likely reason for the indication?
A. The cluster enabled for HA has lost resources and is unable to fulfill its failover requirements.
B. The cluster does not have enough resources to satisfy the reservations of all resource pools and
virtual machines.
C. Incompatible CPU generations between hosts are preventing DRS migrations.
D. The cluster is currently electing a Master host and is unavailable to perform HA functions.
Answer: A
QUESTION 250
What is indicated by the performance chart shown?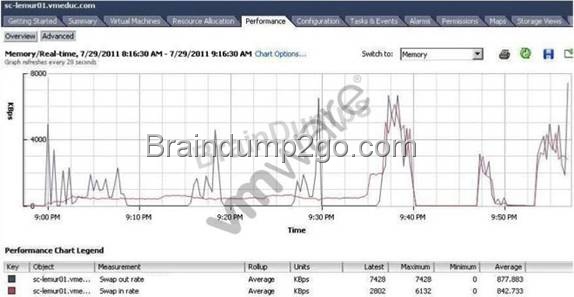 A. Guest memory is overcommitted.
B. Host memory is overcommitted.
C. Host is I/O constrained.
D. Guest is I/O constrained.
Answer: B
If you want to pass the VMware VCP550 Exam sucessfully, recommend to read latest VMwareVCP550 Dump full version.